Last month, while I was stressing out about my comprehensive exam, I decided to read The Happiness Project by Gretchen Rubin. I bought it on a whim, because I saw it as an ad on my kindle (proof that ads do work!). I generally hate these kind of self-help books, because they either seem too touchy-feely or not based on science at all. Although Rubin doesn't reference research papers on happiness directly in her book, she talks about the science of happiness in a way that is engaging, interesting, and appealed to my high level of OCD. Plus, I looked many up the papers myself, 'cuz I'm a scientist and I have access to journals (open access, open access, open access!!!).
Rubin's basic premise is 1) it is possible to be happier and 2) one of the best ways to change your behavior to become happier is by keeping track of your happiness goals. She makes a point, though, of saying that depression and unhappiness are two very different things. At this point, I am starting to feel uncomfortable because it sounds so wishy-washy, but hang with me.
I've decided to try this happiness thing myself. In her book, Rubin has a different "theme" for every month. For example, "Energy." Like Rubin, I decided that I would have energy as my first month's theme. Now, to me, "Energy" sounds particularly wishy washy, like I'm going to focus on the color of my energy or something. Here are the real, non wishy-washy goals:
Make a Schedule Every Day (and stick to it): This kind of includes things like "go to bed by 10" (which means I will get a decent night's sleep - and thus have more energy!) and "go for a run" because I put them on my schedule. I feel like I actually get things done when I make a plan, and when I don't a lot of time seems to go by without me noticing it, and then I feel guilty or stupid for not getting the things done I wanted to. I have also noticed that if I write what's worrying at night on my schedule I stop worrying about it and sleep better.
Keep a food diary: I pay better attention to what I am eating when I write it down. I found this graph online and thought it was interesting (although I haven't had time to research the link between eating habits and keeping track of food) The graph is from a man who was keeping track of calories intermittently and his weight all the time. The shaded areas (pink) are when he was keeping track of calories. He found that upward fluctuations happened when he stopped keeping track of food. I feel better when I eat better, and I eat better when I pay attention to what I eat. More energy.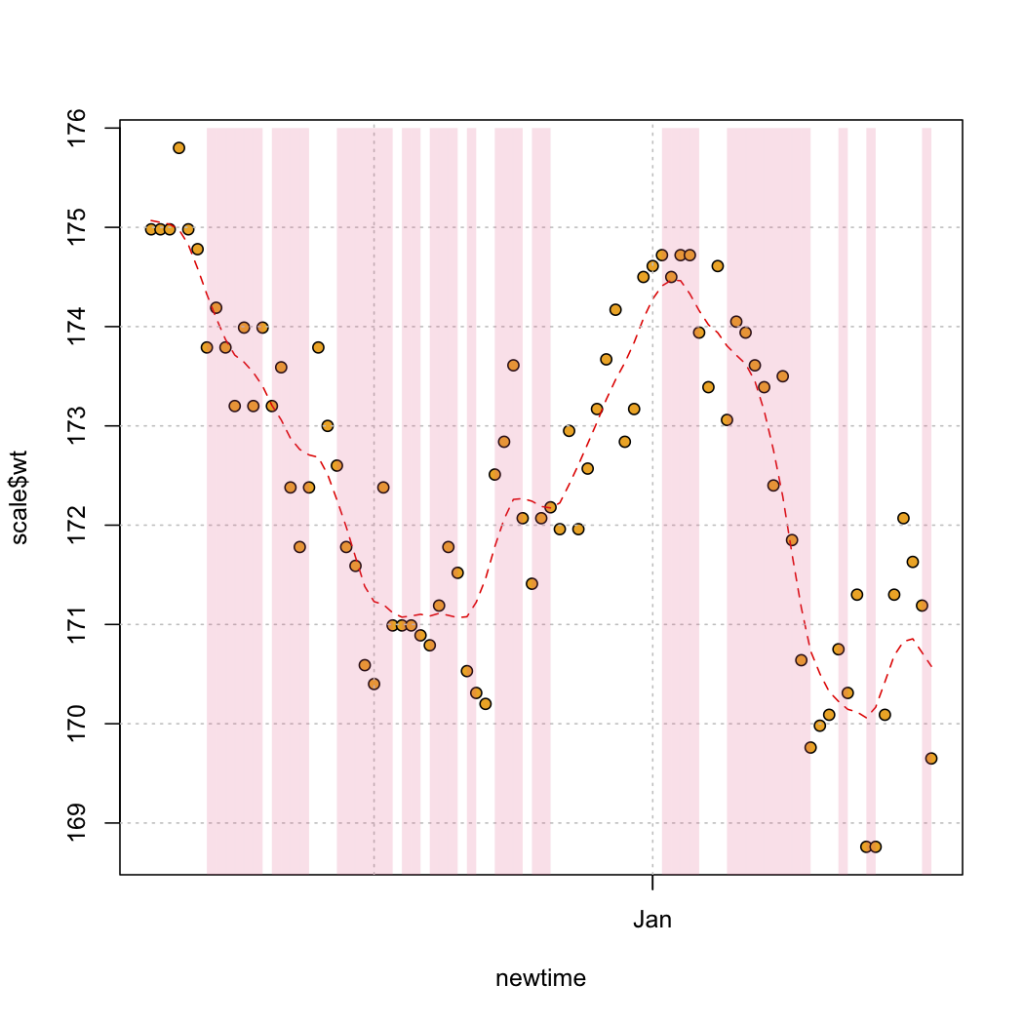 Go outside with running shoes on: for me, the hardest part of any workout is getting my clothes on and getting out the door. Once I do that, I usually figure I might as well at least go around the block once. Even though this says running shoes, I am also counting 1) go to the pool and get your bathing suit on, 2) leave the house/hotel room with your gym clothes on, and 3) go outside in your hiking clothes. Paradoxically, by setting my goal low, I actually workout more. Exercise and fitness give you more energy.
One minute rule: if it takes less than a minute to do, so it right away. This keeps little things from piling up. I don't know about you, but I find a long to-do list of little things exhausting. Get them out of the way.
Evening tidy up: Spend 10 minutes every night tidying up the house. Getting up in the morning and having to put away dishes or fold laundry before work is stressful and exhausting. If I just spend 10 minutes doing it at night, it makes the whole next day go better.
So that wasn't SO wishy-washy after all.
How have I done so far? Today is the 5th, and I started on the 1st. Well, I did pretty well on Day 1. But on Day 2, I had to pack for a research trip. Day 3, 4, and 5 have been spent flying around in airplanes and crossing the international date line, so those were pretty much a wash. However, if you look at the sum of a month, three days is not really that many, so there's no sense giving up.
One of the great points that Rubin makes in her book is that happiness doesn't come easy - things like making a schedule every day, and going for a run take time and effort. It's hard to do them. But, if you believe that
struggle, and not raw talent, leads to success
(as I am trying to do), then you're more motivated to struggle. After all, what is a PhD if not a long, long struggle? Have you ever heard anyone say, "Wow, that PhD was sure effortless?"
Off to the gym and try to hit some goals. After three days of exhausting travel, it's going to be a struggle.

"A dream doesn't become a reality through magic.
It takes sweat, determination, and hard work."
-Colin Powel