For their next trick, they will also
balance books on their heads.
I've been thinking a lot lately about work environments, about what I have now and what I would like to have. One of the things I've been doing is thinking about good experiences I've had when working with other people, when everything seems to magically fit together and end up well. Watching the Olympic rowers last week took me back to a time when I was on a team that worked together like magic. Except it wasn't magic - so I thought some more about what exactly made that group dynamic so excellent.
In college, I was on the crew team for about a year and a half. During my first year, I was on the novice women's team. We had two boats, each with 8 rowers and a coxswain. The coxswain is usually a very small, light person who sits in the stern of the boat and steers and gives everyone directions (and if you've ever rowed, you know that every rowing team in the history of time has made
jokes like this
).
I was in the 2nd eight, and it was one of the most fun experiences I've ever had. The women in my boat were extremely supportive of each other, cheering each other on during practice and races. The balance of a rowing shell is extremely delicate (those things are tippy!), and if we started to tilt one way or another our cox would remind us to keep it level. And together, we sat up straight, and did.
As a college student, it's really hard to motivate yourself to roll out of bed at 4:30 am for practice. However, an eight is uneven with just seven, so if you don't show up, one of your friends is probably going to sit out. So you get your butt out of bed, because you would hate for someone to do that to you.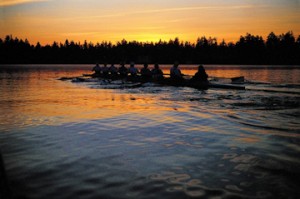 Rowers get up very early in the morning
In rowing, people sit in different parts of the boat depending on their skill and qualities. The woman in seat number eight (aka stroke, immediately facing the coxswain) has to have impeccable technique and timing, because everyone else follows them. The same goes for seven. Seats one and two need good balance, because they're at the tippy-ist part of the boat. Seats three through six are the "engine room," the powerhouse of the boat. Each rower plays an important part.
What I am hoping and striving for is to work in a lab that is like my first novice eight boat. I want to work somewhere where everyone is pulling together and looking out for each other. OK, sometimes someone is doing something wrong (mostly, it's me). But the whole experience will be better with a little teamwork and communication.
Even scientists can benefit from a little "team spirit." In a lab, everyone plays a part, whether it is the PI, the lowly intern, or the even lowlier graduate student. The grad students often depend on the PI for funding and feedback, and the PI needs grad students to crunch through the data (among other things). A lab environment that acknowledges that everyone contributes is a much more pleasant place to work. A lab where the lines of communication are open, and where people are working together, gets more done. Team lab for the win!
NASA scientists celebrate the landing of the Mars Curiosity Rover.
The 2012 US Women's vollyball team celebrates.